チェコや他の中欧の国の森や草むら、芝生などには
暖かい季節(4月~10月頃)に木ダニというのがたくさんいて
たまに日本脳炎に似たような症状をおこすウイルスや
ボラリアという炎症性疾患をおこす菌をもったものがいるそうです。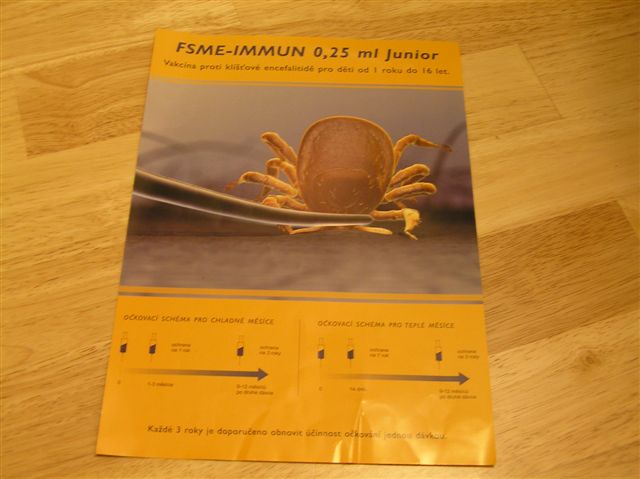 先日、家族みんなで3回目の木ダニの予防接種を受けました。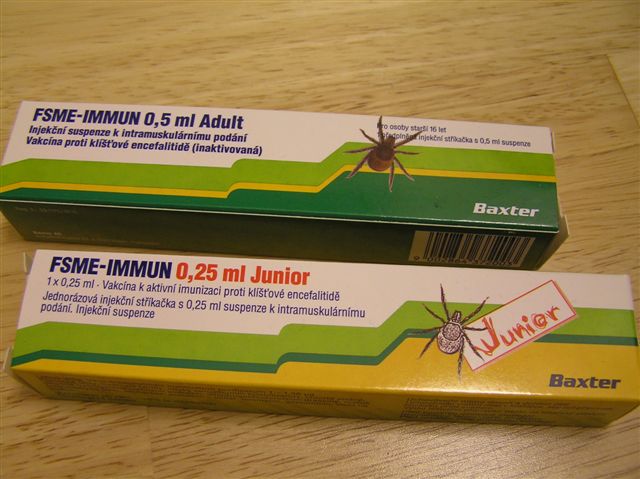 1回目の後、冬季は約1~3ヶ月たってから
暖かい時期であれば14日後に2回目を受け
その後9~12ヶ月で3回目を受けます。
その後は3年に一度受けるだけでよいのだそうです。
特に注意すべきは、1回目の後~2回目を受けるまでの間。
この間に感染した木ダニに刺されてはいけないそうで
できれば木ダニのいない寒い時期に
2回目までの接種を済ましておくのがよさそうです。
木ダニのことを
英語ではティック(TICK) チェコ語ではクリーシチェ(KLISTE)といいますが
ドイツ語の「ツェッケン」という言葉でもよく通じるようです。
以下、参考までに、プラハ市内で英語の通じる病院のひとつ
UNICARE MEDICAL CENTER
のククラ先生よりいただいた
木ダニについての記事を掲載しておきます。
There's Danger in the Woods (and in parks and grass and gardens…)
Tick-borne encephalitis (TBE) and Boreliosis (Lyme Disease)
Is a Tick bite dangerous?
No, in general, a tick bite is not dangerous unless you are bitten by an infected tick. The common tick (Ixodes Ricinus), found throughout the Czech Republic and Central Europe, can carry two serious diseases: Tick-Borne Viral Meningo-Encephalitis and Borreliosis (Lyme Disease).
There are areas where large numbers of ticks are infected and these are called endemic areas for tick-borne diseases. The highest number of cases of disease within the Czech Republic is reported from South Bohemia, West Bohemia, Prague and its surroundings and around large rivers such as Vltava, Lužnice and Sázava.
How and when can I get infected?
Forest animals are a natural reservoir for tick borne diseases and the tick serves as a vector transferring the infection. The "tick season" begins when the weather gets warmer in spring and temperatures remain above freezing. Ticks inhabit long grass and leafy trees in parks and forests and can easily attach themselves to people and animals. Both diseases can be acquired through a single bite from an infected tick.
What is Tick-Borne Viral Meningo-Encephalitis (TBE)?
TBE is a viral infection of the central nervous system. Symptoms begin usually within 2 days to one month after the tick bite and in the early stage they are similar to influenza. If there is a significant spreading of the virus into the nervous system, the disease progress into the second stage and symptoms become more severe. They may include fever, headaches, nausea, vomiting and sometimes stiff neck or even alteration of consciousness. There is no specific treatment for TBE, usually only supportive treatment. The main therapy is prevention and there are very effective vaccines. Mass vaccination has been undertaken in Austria, with protection rates of at least 96 percent
To achieve protection from TBE, the 1st dose of the vaccine needs to be given in winter, the 2nd within 30 days, and the 3rd one 9 to 12 months later. To retain immunity, it is recommended to receive a booster dose every 3 years. The best time to start vaccination is the winter because it ensures full protection by spring. There is a slightly different schedule if vaccination is started later in the year. The vaccination is available for adults and children 12 months of age or older.
What is Borreliosis ( Lyme Disease )?
Lyme disease is a bacterial infection caused by Borrelia Burgdorferi. The symptoms can be miscellaneous. Usually within four days of a bite from an infected tick, a red spot or rash will form around the point of the attack, and it can spread in form of concentric circles (erythema migrans). Other symptoms are fever, headaches, fatigue, joint pain and muscle aches. Lyme disease can be successfully treated with antibiotics and it takes about three weeks. In case of inadequate treatment, Lyme disease can lead to serious complications involving the cardiovascular system and joints. At present there is no vaccine against this disease.
How can I protect myself and my family against Tick-Borne Diseases?
•Cover up! Wear long sleeves, trousers, and socks when walking in nature.
•Repel! Use insect repellant on exposed skin.
•Examine! Inspect yourself, family, and pets after returning from a walk.
•Remove! Ticks bury their heads in the skin, and attempts to remove the tick may result in breaking off the head which left in the skin is still infective. Unicare recommends seeing your physician to ensure complete removal.
•Consider vaccination against TBE! Remember: to be fully protected in spring, receive the first dose in winter or early in the year.
Dr. Štefan Kukura, Unicare Medical Center